You are here
Why We Play: A Guide to Finding the Right Piano by Ben Klinger.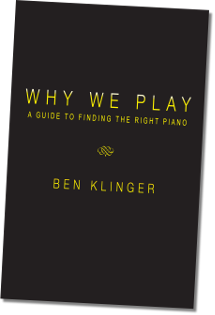 Ben Klinger, 2012. www.whyweplay.net; 52 pp., $13.49.
As an experienced piano salesman who has been in the business for 17 years, Ben Klinger writes a compelling manual for the prospective piano buyer. The author realizes that many frustrations come with piano shopping. After all, it is a substantial investment in an instrument that does not simply come with a checklist of qualifications, but contains many subtleties the buyer may not understand. Klinger seeks to overcome these frustrations from the first page, emphasizing throughout the book the enjoyment and nourishment many people receive from playing their piano. He includes testimonies from a diverse range of piano players, from the amateur to the professional musician. The joys of playing piano and making music should be remembered when selecting the right piano.
However, the book also presents a wealth of down-to-earth, practical advice about piano buying. In an economy where our budgets are tight, the author tells the reader the importance of investing the most money that can be afforded in a good piano. Because the Internet is now involved in nearly every aspect of life, Klinger warns against the dangers of shopping for pianos online and insists that the best approach is a personal one, via the right dealership. He clarifies that the commitment to invest in a piano is a serious one, so extra measures must be taken to ensure that no hurried decisions are made. Also included are 10 practical buying tips when purchasing from a piano dealer.
This book was a compelling read for me. I am a graduate piano student, and it was helpful for me to read this practical advice about piano buying from someone on the other side of the process. The author is very interested in helping the customer. In fact, I would consider buying a piano from the author himself, but the commute would be a bit far. While there are informative books about piano buying, this one seeks to leave the reader inspired about the process rather than feeling frustrated. However, it is still concisely written and organized like a manual of sorts. There is a fine balance of broad topics, such as inspiration and joy, with practical buying advice in this book. —Reviewed by Jonathan Young, University of Missouri-Kansas City
Used by permission from MTNA, American Music Teacher, April/May 2013, pp. 68-69. Copyright © MTNA