You are here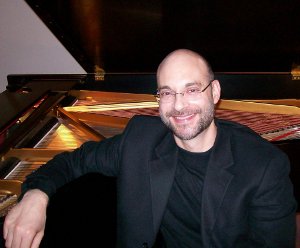 Sound has always affected me. I recall an early childhood memory of drifting to sleep in my upstairs bedroom while my mother played Bach's Joy of Man's Desiring on our family piano downstairs. The sound rose through the floor and comforted me. My father, who didn't play, also learned just one piece: Bach's Two-Part Invention in F. The mere sound of him working out this one piece late at night for his own enjoyment offered me an unexplainable assurance that everything was going to be OK. As I grew older I felt passionately about creating sounds—music gave me the ability to express and understand feelings I couldn't articulate with words.
My passion to experience emotion through music led me to study at Berklee College of Music in Boston. There I met some amazingly talented friends and musicians from all walks of life. I studied with teachers who had performed with an extraordinary array of legendary musicians, such as: Charlie Parker, Stan Getz, Dexter Gordon, John Williams, Luciano Pavarotti, Henry Mancini, Mel Torme, Muddy Waters, Bonnie Raitt and many, many more.
After graduating from Berklee, I went on to perform and teach professionally for several years before beginning a career in the piano retail industry in 1996. Piano retail caused me to relate to people through sound in a completely different way. I came to know a remarkably diverse group of people: customers, concert artists, music educators, piano technicians—people from all over the world. As years passed and technology increased, I found that I was meeting fewer and fewer people who had had meaningful musical exposure in their lives. Our cultural reference point for the joy, power and value of learning to play music, particularly the piano, was rapidly diminishing.
Why We Play was written to offer what I felt was missing in the piano-shopping experience: context. So I provided a guide for piano-buyers that fills in the blanks between Make, Model, Price and Color with Inspiration, Reason and Motivation. My hope is that Why We Play will provide a catalyst for understanding and inspiration, leading to a long-term, meaningful and contagious personal connection to music.
Over time I also hope the website will offer encouragement of its own. Please check in periodically—you may find postings of artist interviews, original music and maybe even a new book.
~ Ben Klinger